8 days Yoga Retreat in the west coast archipelago of Sweden
| | |
| --- | --- |
| Arrangør: | The Heart of Yoga - Yoga Retreats in Sweden and Worldwide |
| Placering: | Greenstones, Ellos, Flaton, Sweden |
| Fra: | 5/8/2017 kl. 15:00 |
| Til: | 12/8/2017 kl. 14:00 |
| Antal visninger: | 457 |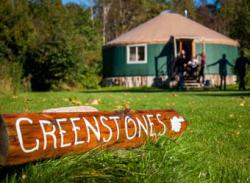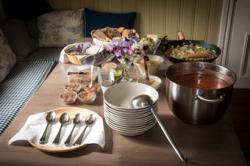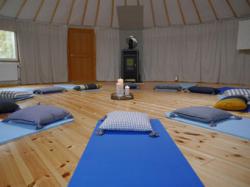 Our August 2017 Heart of Yoga retreat will be held at Greenstones, on Flatön. Greenstones is an eco-friendly retreat centre set in the pristine coastal hinterland of the west coast archipelago of Sweden. The natural setting fosters a deeper connection to the natural world and to your true self.
This is an opportunity to encounter parts of the yoga tradition not normally explored in a typical yoga class. You will be involved in a powerfully transformative full moon fire ceremony, be given your own personal sanskrit mantra and experience a gentle introduction to the art of noble silence for some parts of the retreat.
This retreat is for people who have some experience with yoga practice (any style, any tradition).
Places limited to 14 participants only.
A typical day at the Flatön Yoga Retreat
06:00-08:30 Asana, Pranayama, Meditation
08:30-09:30 Vegetarian, organic breakfast
09:30-11:30 Free time for example, a walk in the beautiful surroundings (Karma Yoga for some)
11:30-12:30 Yoga Nidra, Meditation
12:30-13:30 Vegetarian, organic lunch
13:30-16:00 Free time (pool and Sauna on certain days)
16:00-18:00 Asana, Pranayama, Meditation
18:00-19:00 Vegetarian, organic supper
19:00-21:00 Evening activity - Ayuervda or Mindfulness talk, Fire Ceremony etc
What you need to know
Commences Saturday August 5 (arrivals from 14:00, classes start at 16:00)
Closing circle Saturday August 12 (around 15:00)
Cost is 849 Euros and includes full board and accommodation, three organic vegetarian meals and snacks each day, three yoga/meditation classes each day, access to the sauna and heated pool and an evening activity (talks on Ayuerveda, Mindfulness and practical ways to incorporate what you have learned on retreat into your everyday life back home).
Stay in a round yurt (2 or 3 bed available) or room in the main building (single or double rooms available).
Getting There
There is a direct bus from Gothenburg, Nils Ericson Terminal (5 minute walk from Gothenburg C) to stop Prästgårdsvägen, Uddevalla where you will be picked up by someone from Greenstones (this shuttle is included in your retreat price).
We can also help to arrange carpools - please let us know if you are bringing your own vehicle and are happy to offer a seat to other participants.

Welcome
Emma & Lars
http://yoga-retreat.se/teachers/

Read more about the retreat on www.yoga-retreat.se/next-retreats/
Make your booking at http://yoga-retreat.se/book-yoga-retreat-at-greenstones/
---