Healing Through Yoga - GRATIS SEMINAR
| | |
| --- | --- |
| Arrangør: | Natha Yoga Center |
| Placering: | København |
| Fra: | 14/9/2017 kl. 19:30 |
| Til: | 14/9/2017 kl. 21:30 |
| Antal visninger: | 97 |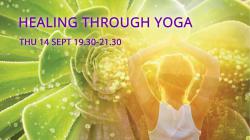 Healing Through Yoga - Seminar with senior yoga teacher Advaita Stoian
EXCEPTIONAL LONGEVITY, HEALING POWERS AND THE MYSTERIOUS ABILITY TO REGENERATE
Since ancient times some people have demonstrated exceptional longevity, healing powers and a mysterious ability to regenerate much more rapid than ordinary people, even from terminal diseases or severe health conditions.

It has often been questioned whether these people were just super humans or if there were some unknown human mechanisms, a methodology and a special practice related to their incredible healing capacity.

In this seminar we will show how, there indeed are some key principles, some special behavioral patterns and even a system of practice behind the phenomena, and how everyone can learn and benefit in their daily life challenges from the knowledge and its applications. Actually nature ifself and its very fabric of biological life is giving us many fascinating examples of natural regenerative processes.
BASED ON A LECTURE KEPT BY THE FAMOUS YOGA TEACHER GREGORIAN BIVOLARU
The seminar is based on a lecture kept by the famous yogi and yoga teacher Gregorian Bivolaru kept on his birthday 12th of March this year. It is structured around his notions about regeneration in his special series of lectures about 'The Divine Attributes'. It integrates some of his significant examples of regeneration with further comments and a practical session with suggestive exercises to experience in your own being The Amazing Power of Regeneration.
ABOUT THE TEACHER
Adinatha and Ananda have been loving and living as a tantric couple the last 10 years. They have been teaching and guiding people to reawaken the spark and love in their love relations for many years, and in how people can get to know each other on a much deeper level than before. Adinatha is the leader of the Tantra Temple in Denmark, where they both teach tantric massage. They also organize workshops, retreats and tantric holidays, guiding people to awaken love and intimacy. They are the main teachers of the Tantra Massage Education in Denmark. Read more here: //tantra-temple.com/tantra-education/

He is also the author of the book "Let's talk Tantra"

Adinatha and Ananda are skilled teachers, who give practical and useful solutions to the challenges in relationships and sexuality, all in a sphere of great knowledge, understanding of the masculine and feminine psyche, love and humor. They help people to understand how the right way of using the erotic energy can make the couple relation fly on the wings of love, but also how it can make both the lovers grow spiritually and become the best version of themselves.

They love to share from their knowledge - and they love to see other people bloom and unfold their beautiful colors when they learn about the true nature of love and erotic play.
PRACTICAL INFORMATIONS
Language: English
Limited spaces!
Please note that due to limited number of spaces we cannot guarantee a place in the lecture if you show up at the door without signing up beforehand.
---