FULD BOOKET! Relax & Restore - Summery, Nourishing and Recharging Soundbath Reset 14.30-16.00
| | |
| --- | --- |
| Arrangør: | Kika Yoga & Sound Therapy |
| Placering: | København |
| Fra: | 2/7/2022 kl. 14:30 |
| Til: | 2/7/2022 kl. 16:00 |
| Antal visninger: | 34 |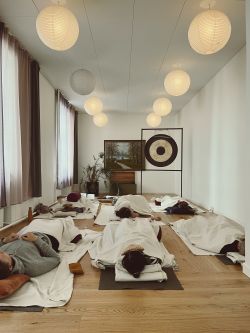 BOOKED OUT! Next event mid-August! Sign up for my newsletter via www.kikayoga.dk to be the first to know!

Last soundbath before diving deep into all the summer holidays - come give yourself that true cup-filling gift. It will be extra nourishing and summerly light and uplifting with a bit more power and firey-ness to move things along, clear out the old to make space for the new!
Reset into the summer mode!
Come join me for another beautiful soundbath relaxation to reset, switch off and rest from all the noise outside and tune back inwards to rest, destress, realign and refresh for the summer to feel light and renewed!
Come to really treat yourself, give yourself the chance to step out of the hamster-wheel for a moment - come down in tempo and back from the rush and speed and focus on the outside to what's inside - just observing how are you, how is your body, your breath. Taking 1,5 hours out of your weekend to deeply relax and restore your body and nervous system and simply be and be present. Taking time for yourself to fill your cup, restore your full system, feel anything that needs to be felt and bring yourself back to harmony.
WHAT ARE SOUND BATHS/SOUND THERAPY?
Sound therapy is an ancient technique used as a meditation tool to restore harmony in the physical and emotional body and to relax as it stimulates stress relief and gives a feeling of deep relaxation. After a session people tend to feel more clarity, more centred and 'in tune' with themselves.
The best way I can describe my experience of participating in sound baths is simply having the time, space and opportunity to effortlessly process and get clarity about everything happening in- and outside myself.
I truly love this spacey yet grounding practice and invite you to come and take some time for yourself to process, relax and find some peace and calm, while being held by the sounds and vibrations of beautiful instruments such as the gongs, singing bowls, chimes, and rattles.
Just the experience of being surrounded and embraced by the marvellous sounds and vibrations and sensing their immediate effect is such a beautiful experience in itself!
During the session you will be lying down under a blanket and the only thing to do is close your eyes and relax while different instruments played produce sound vibrations massaging our body internally and take you on a meditative inner journey.
PRACTICALITIES:
* TIME: Saturday, 2. July, 14.30-16.00 - arrive a few minutes early to have some tea and not have to arrive rushed
* PLACE: HéLT Yoga Studio. Vesterbrogade 20, 1tv, 1620 København
* PRICE: 195dkk for one, 350 for two - Bring a friend you have wanted to see for a while or were going to have that afternoon coffee or dip to the water with anyway (Sharing that love! ).
* No need to bring anything - comfortable (not too tight) clothes are nice! To secure yours or anyone else's place please MobilePay the suggested amount with the date of the event in the comment to 91639311 (Kristina Krutop).
If you don't have mobilepay you can use this link to buy a giftcard you can use fro yourself or your friends: https://www.kikayoga.dk/giftcards
Can't come this time? Sign up to my newsletter at www.kikayoga.dk to stay informed of the future events.
Feel free to share this with anyone who would enjoy this experience!
Can't wait to share some of this magic with you!
---