Switzerland Autumn Retreat
| | |
| --- | --- |
| Arrangør: | Sparkling Yoga |
| Placering: | |
| Fra: | 19/10/2017 kl. 08:00 |
| Til: | 22/10/2017 kl. 18:00 |
| Antal visninger: | 1114 |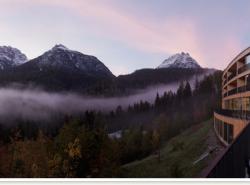 This yoga and meditation retreat is for you if you love to move - whether it's yoga, hiking or exploring; if you enjoy mountains, fresh air that smells of herbs and fir trees, waking up to breathtaking views of forest covered mountains that line the valley and if you appreciate good food, designer alpine decor and architecture, space and tranquility.
We are staying in a beautiful spa hotel nested just by the side of the mountain and surrounded by stunning pristine nature. The ellipse shaped hotel features huge windows along one of the walls which allows you to enjoy magnificent views during the day and fall asleep looking out at the stars. There is also a bathtub with a view available in the room, lots of lovely details and outstanding wooden decor.
If you prefer simplicity, there is a more basic choice of room available which is a little smaller and has a regular bathroom. These rooms are in the older building of the hotel. Both types of rooms are available for double/twin or single occupancy.
Included in the retreat fee are generous delicious brunches at the hotel every day featuring lots of scrumptiously fresh local produce as well as a welcome dinner at a restaurant in the village.
Included in the price of the retreat is accommodation for 4 days/3 nights at our lovely hotel, 3 generous buffet brunches, 1 welcome dinner at the restaurant, the use of yoga space at the hotel in the morning and studio in the village where we practice in the afternoon, all yoga and meditation classes and the use of spa at the hotel in the afternoons/evenings.
8.15-10.00 morning yoga and meditation practice at the hotel spa
10.00-11.00 brunch at the hotel
12.00-13.00 yoga nidra guided meditation (on Friday)
11.00-15.00 free time to explore, hike, rest, savour the local delicacies in the village, go for a helicopter trip
15.30-17.30 afternoon yoga and meditation practice in the village yoga space
18.00-…. dinner & free time with a possibility to use spa and sauna at the hotel
The location is easy to access from any major city in Switzerland. You can then drive or take a train to the village. The hotel is about 10 minutes walk from the station. It's both a spectacular train ride and drive whichever direction you're coming from. You will receive further instructions upon request or registration.
As an unforgettable addition to the retreat, it is possible to book a helicopter trip over the Engadine Valley and St Moritz mountain - it is considered one of the most visually enchanting flights in the Alpine region. Another great extra is visiting a local baker/confectioner who can either organise some chocolate tasting or local cake baking course for our group or a part of our group.
To register, please email elena@sparklingyoga.com
---