Wild Woman Autumn Retreat
| | |
| --- | --- |
| Arrangør: | truenorthsisters.com |
| Placering: | Møn Retreat Center |
| Fra: | 15/9/2017 kl. 12:00 |
| Til: | 17/9/2017 kl. 15:00 |
| Antal visninger: | 225 |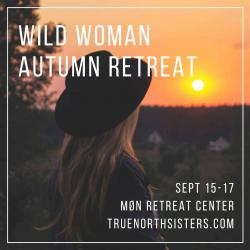 As the wheel of the year turns towards the Autumn Equinox, the Wild Woman invites us to explore all the places we are not yet free. She dances. She plays. She howls and sings. She claims her expression and shares her gifts. She is mother, leader, creator and friend. She is you. And as daughters of Earth, she's calling each one of us to reclaim our bodies, instincts, power and grace.
This transformational retreat will invite you to connect with the energies of your heart's desires, to unplug, tune in and to further awaken to the magic of what it means to live vibrant and free.
We'll explore how the Wild Woman has entered our lives in both subtle and not so subtle ways. We'll dive into her unconventional, imaginative, and unexpected urges, and we'll discuss the history and archetypes of what it means and has meant to be a woman of the wild.
This weekend will invite you to step outside of unfulfilling, familiar boxes, and into both the clarity of light and mystery of dark. We'll create a fun, loving, and supportive space to explore our power, voices, and unique gifts.
You'll be encouraged to stop playing small, holding back, and hiding your natural beauty. There is nothing to fear. The Wild Woman is the mirror for all the wonder you have become, and the most sincere invitation to be the magnificence you already are.
We hope that you'll join us for an extraordinary weekend of retreat, refuge, love and transformation, as we offer a very special chance to celebrate all that is incredible about being a woman.
When & Where?
September 15-17 at Møn Retreat Centre. We'll start Friday at 12.00 and end Sunday at 15.00. 90 minutes from CPH city centre — directions here.
Address:
Møn Retreat & Kursuscenter
Vollerupgade 2a
4792 Askeby
What will happen daily?
—Sacred movement.
—Contemplation (meditation & writing prompts).
—Ritual, ceremony & sharing.
—Shamanic and tantric practices.
—Nature explorations.
We'll nourish our bodies with delicious, vegetarian meals.
We'll catch up on our rest in comfortable, quiet rooms and in Nature.
This package will encourage you to heal, transform and walk the path of what it means to awaken the wild woman within you.
Tanya & Pernille's offerings are gentle, potent & inspired by the ancient practices of yoga & Earth.
Who is this event for?
This retreat is for women of all ages looking to:
➵ Connect with other women in a shared, empowered space.
➵ Commence the lifelong art of listening to the inner call.
➵ Create a healthy, loving relationship with their body.
➵ Move in the direction of personal healing and soulful purpose.
➵ Re-discover her personal connection to Nature and the healing arts.
➵ Step into her full range of creative, authentic expression.
➵ Be a part of the conscious awakening across the planet.
This retreat will give you time to create a personal rite of passage to discover and celebrate the power of what you keep hidden, while being inspired and held by Nature and Sisterhood in a grounded, tranquil and life-giving atmosphere amongst the trees, flowers and fields.
There is absolutely no experience required for this retreat. This is a women's only weekend.
This event is first-come, first-serve. We cannot hold your space until you book. We hope that you'll join us!
Email us with any questions info@truenorthsisters.com.
High blessings, with love, support & with Nature, Tanya & Pernille
More info:
http://truenorthsisters.com/retreats/
---