Restorative Yoga Workshop
| | |
| --- | --- |
| Arrangør: | Blå Himmel |
| Placering: | Copenhagen |
| Fra: | 21/10/2017 kl. 14:30 |
| Til: | 21/10/2017 kl. 17:00 |
| Antal visninger: | 320 |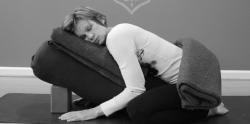 Restorative yoga is a beautiful thing. It's a mini yoga revolution of slowing down, opening, feeling support and being absolutely present to the energy of the moment. The purpose of this type of yoga practice is one of deep heartfelt opening and softening where the nervous system shifts out of 'fight or flight' and into a relaxation response.
It evolved from the seminal work of BKS Iyengar. It uses props such as bolsters and blankets to support the body in different reclining positions and conscious breath to create space, not only physically but mentally as well. Sometimes this can take a while, because we spent quite a lot of time working ourselves into a highly stimulated state, where we are stuck in the mode of 'doing' and have forgotten the basic experience of human 'being'.
Using slow conscious stretches to release physical tension and the power of natural breath to literally shift perception to one of space, the body can rest in the different supported postures. A relaxed and conscious breath brings about the shift of the nervous system along with comfort, softening and opening and a willingness to let go of your attachment to the 'doing' of things. In fact restorative yoga is a process of 'un-doing'. You will come out feeling refreshed and rejuvenated. Restorative yoga completes a yoga practice balancing out an active one with a rejuvenating one.
TIME: Saturday 21st October 14.30 - 17.00
PRICE: 300, - kr. Or 4 clips / credits.
MEMBERSHIP: 250, - Pay to Mobile Pay 26230917 and send mail to info@blaahimmelyoga.dk (ONLY for members with fixed monthly subscription payments)
---