Somatic Meeditation Retreat/w Godfrey Devereux
| | |
| --- | --- |
| Arrangør: | Being Pleasure |
| Placering: | Rågeleje Nord Sjælland |
| Fra: | 24/5/2022 kl. 17:00 |
| Til: | 27/5/2022 kl. 14:00 |
| Antal visninger: | 106 |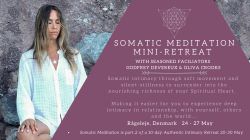 ⏀ Do you experience the quality of your life being determined by the quality of your relationships and how you feel within them?
And as many of us in these challenging times, are you longing to slow-down, tune-in and experience a refreshing approach to somatic intimacy and meditation that has the possibility to deeply enrich your life?
Somatic Meditation is a ground-breaking approach to meditation. Using the flow of sensations generated by the body to harness and pacify the mind, it invites your Spiritual heart to open effortlessly.
Expect expert guidance, nourishing and rhythmic yoga in the mornings, silent nature walks in the afternoon, plenty of tuning-in by seated silent-stillness throughout... and a simple cleansing diet to support.
Godfrey's approach to meditation is based on letting go and intimacy- rather than effort or control. This develops a deep acceptance of what actually is without any struggle or skill required.
We warmly welcome you to join us in Rågeleje for this Mini-retreat with Pioneer Godfrey Devereux - a Somatic Spirituality Facilitator with 40 years of Experience
////////////////////////////////////////////////////
⍙ WHAT THIS SOMATIC MEDITATION IS ABOUT...
Meditation is the source of the self-awareness necessary for genuine intimacy and authenticity. This 3 day Retreat will allow you to drop deep into the heart of your own Presence, with no need to restrain, control or judge your mind. As you settle into the flow of sensations being generated by your body the Love Without an Object, Peace Without a Cause and Joy Without a Reason you most deeply are will begin to express themselves more freely and fully. As they do so your mind will become more peaceful and present, and love, peace and joy will become more readily available as the foundation of your life and relationships. Each day will begin with a safe and accessible movement practice led by highly seasoned yoga teacher, Olivia Crooks and the meditation sessions will include walking in the nourishing presence of nature.
⏀The Facilitator:Godfrey has been facilitating somatic, cognitive and awareness training for almost forty years. He has undertaken a deep exploration of the subtle nature of the human body as a vessel of wisdom, compassion and love. Many consider him a master in the art of communication, for his teaching is both direct and powerful in its subtlety and simplicity. One of his gifts is to able to create a dynamic, safe space within which people can feel, acknowledge and honour themselves as they actually are.For more info on Godfrey see below…
⏃ The Venue:Held in North Sjælland within the quiet residential and woodland area of Rågeleje. Taking place on the threshold of summer, you will find yourself in a cosy wooden home with an enclosed garden, a beautiful wood-burning sauna, just walking distance from one of Sjællands loveliest beaches.۵ Prices include tuition, wholesome vegetarian/vegan board and shared lodging (indoor or outdoor in a bell tent).- Please bring your own bed linen and towels.
❦ Investment: 3000 dkk
☾ Schedule: May 24-27: Arriving Tuesday 24 evening: Welcome dinner and induction session
⍙ Daily schedule:Wed - Thurs 6.30am until 20.30pm.A rhythm of meditative movement and stillness, Pep talk from Godfrey, silent walk together in nature.The whole retreat will take place within the soothing context of Practical Silence, with no social communication taking place until the last day. ⍙ Leaving Friday 27 afternoon after lunch, farewells around 14.00
⏀Bookings and info: Charlenediana@beingpleasure.com
Note* This mini-retreat in Authentic Sharing is the first part of a 10 day Authentic Intimacy Retreat: An in-depth retreat which is comprised of three parts, all of which are presented as a complete whole and can be attended separately. A discount is given when attending the full retreat.For more details on the entire Authentic intimacy retreat see here: https://tinyurl.com/4e9j7c64
////////////////////////////////////////////////////
♕ More on Godfrey Devereux and Olivia Crooks:
Godfreys website & blog with links to all his works: http://godfreydevereux.com/
Olivia Crooks: https://www.intimatebeing.com/
FB page: https://www.facebook.com/Radical-Ecology-115201365235620
Godfreys Yoga approach: dynamicyoga.com
Godfreys resilience work: https://www.radicalecology.net/
---