Tantrafestival København - Ride the Waves of Ecstacy
| | |
| --- | --- |
| Arrangør: | Natha Yoga Center |
| Placering: | København |
| Fra: | 16/9/2017 kl. 08:00 |
| Til: | 17/9/2017 kl. 19:00 |
| Antal visninger: | 88 |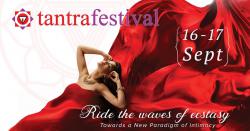 Tantrafestival København - Ride the Waves of Ecstacy
Tickets almost sold out. Buy your ticket and see the program at www.tantrafestival.dk.
TANTRAFESTIVAL presents RIDE THE WAVES OF ECSTASY Towards a New Paradigm of Intimacy 16 - 17th September 2017, Copenhagen
A WAVE OF AMAZING EVENTS
In an atmosphere full of joy and vibrancy, Tantrafestival opens the gates to this year's exciting new adventure into the sublime world of Tantra.

Come and join us with curiosity, an open mind and follow the hearts yearning for ecstasy, in an electrifying space teeming with inspiring lectures, interviews, seminars and engaging workshops: Pillars of the Masculine, Tantric Femininity, The Multiorgasmic Way, Temple Time for Lovers, Melting Moments, Masculine Antennas & Female Radars, Tantric Touch, Tantra & Neurosexuality, Pineal Tones, Frontier Holistic Medicine, Psychotherapy, Self Coaching through Tantra, Blisstatic Drum Journey, Why Are We Whispering: Intimacy in love & relationships,Power Polarity Yoga, Magic Morning Gathering, guided meditations, erotic art, artistic moments, Saturday Night Heart Celebration and much much more.

WHAT WILL HAPPEN?
A delicious taste of what you will experience at this years Tantrafestival:
- A 2-day full program of seminars, workshops and events in 4 different halls, offering you new perspectives on tantra and on life
- Copenhagen Conscious Talks is again enriching the Tantrafestival with lively debates and juicy discussions about tantric orgasms, gender dynamics, fulfilment in relationships and much more... hosted in the big white rooftop terrace tent.
- This year we will have a permanent Tantra Temple lounge, where you can go to recharge in between workshops and events and experience the magic of conscious loving touch!
- Ambrosia Catering is providing us with necessary nourishment, delicious vegetarian and vegan food, raw snacks and healthy cocktails to refuel your energy.
See the full program and buy tickets at www.tantrafestival.dk.
The tantrafestival offers you a taste, an experience... it's not the full meal, but an invitation for you to go deeper. To enrich yourself through the extensive and intensive experience of some of the most renowned tantric practitioners of today.
VENUE
Tantrafestival Copenhagen 2017 - "Ride the Waves of Ecstasy – Towards a New Paradigm of Intimacy" will be hosted in: Natha Yogacenter Nordre Fasanvej 230 2200 København N See soon the full program and buy tickets on www.tantrafestival.dk
---