Summer Soul - Polarity retreat
| | |
| --- | --- |
| Arrangør: | Natha Yogacenter |
| Placering: | Store Torøje, Faxe |
| Fra: | 6/7/2017 kl. 12:00 |
| Til: | 12/7/2017 kl. 00:00 |
| Antal visninger: | 291 |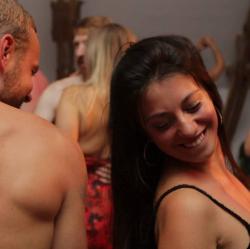 Discover the Power of The Masculine & Feminine Play - A retreat for both couples and singles

WARM WELCOME to our annual Summer Soul Retreat. 7 days of delightful self-discovery journey into the play of the Masculine & Feminine Powers and an unique opportunity to share, celebrate and discover yourself in an unforgettable Polarity Experience with around 100 people guided by 5 Tantric Couples in our amazing countryside facilities in Paradise Retreat Centre.

Polarity Experience with 5 Tantric Couples
We have asked 5 of our most experienced tantric couples to create a life-enriching 7 days Polarity Experience where you will get the chance to get a co-creative Training & Initiation into one corner stone's of the tantric teachings. By undergoing years of in-depth studies of the methods and forged in the fire and passion of tantric couple relationships and Transformative Initiations they will bring with them the essential Diamond Teachings of polarity, love games, sacred sensuality and dynamics of relationships: The Essence & Fullness of Inner Human Performance.

It will be a synergetic Holiday & Heart Work in one powerful movement of combined:
Source Knowledge, Life-Changing Experiences, Spiritual Energy Work, Sensual Awakening, Consciousness & Energy studies, Intense Group Processes, Dance & Art Celebration, Masculinity & Femininity Training and Tantric Initiations within a progressive community of participants, volunteers and dedicated teachers aiding and catalyzing this abundant Life-transforming Experience.


In tantra & yoga the Creative Force inherent in all processes of life is experienced as polarity in its perpetual play, whether it be physical attraction or psycho-dynamic relations. In a way all experiences in our everyday life pays tribute to the empowerment of the ever-changing dynamics of Yin & Yang, Moon & Sun, Feminine & Masculine, whether it be in relationships & love games, business & career, health & inner balance, processes of understanding & development of new skills, mobilizing resources & cultivating talents or any other of our Life's Pursuits.

7 Days of Unforgettable Holiday & Heart Work

Through consciously engaging in the Perpetual Forces of Life, you will have the chance to enter the Common Energetic Field of the community, which we will create together. It will allow you to engage in a playful and spontaneous way in the activities of the retreat, to open up to your inner resources and enhance your vital, sensual and energetic experience, as well as your subtle awareness and feeling of Natural Heart Presence.
This year Summer Soul will be built as an effervescent Polarity Retreat with a campus of masculine and feminine play groups as its nerve, and a rich variety of interactions as its pulsating life. There will be time for energy work & yoga, polarity tutoring & studying, meditation & self-enquiring. There will be space to eat, enjoy and laugh together; space to create trust, intimacy and romantic connections as eyes meet & bodies melt in sensual touch; and to experiment and move closer together no matter how close you already are; space to dance, perform & ravish, and there will be guidance into Sacred Meetings & unforgettable moments in the World of Tantra.


What will you learn?
The essential code of conduct of polarity & ways of attraction
Unique guidance and group work with 5 Tantric Couples
Special masculine energy work for awakening solar radiance, stamina and magnetism
How to approach women, relationships with them and the feminine energies
Special sessions for women to awaken sensuality, heart and the Inner Goddess
How to approach men, relationships with them and the masculine energies
Exploring the power of attraction and the deep masculine/feminine connection
Power Polarity Yoga a revolutionary form of yoga practiced in pairs, enhancing the attraction between you
How to charge the battery of power in games of attraction
Ways to integrate learning, healing, and growth into first encounters and long-term relationships
Keys to build real trust in love relationships and friendships
How to stop the love from fading and instead grow your relationship into ecstatic bliss
Practices for getting even closer, no matter how close you already are
How to find the perfect lover
Mens & Womens Role in Society Today
Why the masculine seeks freedom and the feminine seeks love
Why men have a radar for ego in women & women a sense of fear in men
Fulfilling alternatives to rejection, and flexible ways to assert boundaries
Guidance into Sacred Meetings & unforgettable moments in the World of Tantra
Read more here: http://www.nathayogacenter.dk/arrangementer/alle-arrangementer/summer-soul-camp-juli-2017
---