Iyengar Yoga workshops med Janet MacLeod ONLINE
| | |
| --- | --- |
| Arrangør: | Yogacentralen |
| Placering: | Frederiksberg / ONLINE |
| Fra: | 14/8/2020 kl. 18:00 |
| Til: | 16/8/2020 kl. 18:00 |
| Antal visninger: | 65 |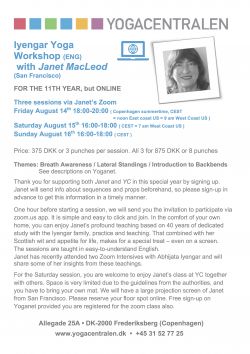 Iyengar yoga
Niveau 1 to 4 (begyndere til øvede), enhver arbejder på sit eget niveau
Der undervises på engelsk, men du kan altid spørge på dansk.
Læs beskrivelsen nedenfor.
Link til tilmelding på Yoganet.dk enten til alle tre dage eller enkeltvis
------------------------
ONLINE weekend 3 x 2 hours
Join us for a weekend of fabulous Yoga instruction. We had planned to bring Janet to Copenhagen for the eleventh time, but this year it will be 3 x 2 hours online.This workshop runs as follows (Copenhagen time zone, CEST)
Friday, August 14th 18:00 - 20:00 Breath Awareness
Janet will teach a variety of postures focusing on where the breath naturally goes in that particular asana. These asanas will be interspersed with Supta Swastikasana to see the effect on the breath in a relaxed position.
Saturday, August 15th 16:00 - 18:00 Lateral Standings.
This category of postures will be taught with others that will support your understanding of these foundational asanas.Changing the relationship to gravity will be one of the techniques used to deepen the exploration.
Sunday, August 16th 16:00 - 18:00 Introduction to Backbends
According to BKS Iyengar, we should be able to achieve a meditative state in an Asana. With skillful sequence, you should be able to get a taste of this.
Janet is a renowned yoga teacher with more than 40 years of experience and holds a Junior Intermediate 3 teaching certificate. Janet dedicates her life to the practice, study and the teaching of Yoga in San Francisco and around the world.Janet sequences poses in such a way that students are able to achieve more than they ever expected. She is demanding on every level. She brings a calm presence and inner joy to her teaching.
Join us for her excellent teaching and unique wit and wisdom. Janet has recently attended two Zoom Intensives with Abhijata Iyengar and will share some of her insights from these teachings.
Open for all levels.
Thank you for supporting both Janet and YC in this special year by signing up. Janet will send info about sequences and props beforehand, so please sign-up in advance to get this information in a timely manner.
One hour before, starting a session, we will send you the invitation to participate via zoom.us app. It is simply and easy to click and join. In the comfort of your own home, you can enjoy Janet's profound teaching based on 40 years of dedicated study with the Iyengar family, practice and teaching. That combined with her Scottish wit and appetite for life, makes for a special treat – even on a screen.
The sessions are taught in easy-to-understand English.
For the Saturday session, you are welcome to enjoy Janet's class at YC together with others (Allegade 25A, 2000 Frederiksberg). Space is very limited due to the guidelines from the authorities, and you have to bring your own mat. We will have a large projection screen of Janet from San Francisco. Please reserve your floor spot online. Free sign-up on Yoganet provided you are registered for the zoom class also.
---