KURSUS - AWAKENING YOUR FEMININE FLOW
| | |
| --- | --- |
| Arrangør: | Huset Namaste |
| Placering: | Farum Hovedgade 54, 1. sal, 3520 Farum |
| Fra: | 30/1/2021 kl. 09:30 |
| Til: | 30/1/2021 kl. 15:00 |
| Antal visninger: | 173 |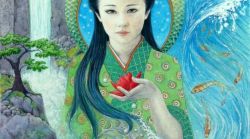 AWAKENING YOUR FEMININE FLOW
...a course in Yin Yoga Asia for Women's Health w/ Mia Martinez

Saturday, January 30th, 2020
9:30 - ca. 15:00
Meridians are "chi" pathways in the body that connects external limbs to the internal organs. In this workshop, I will be teaching you how to work on some of these pathways through a warm-up series and a sequence of leg meridian stimulating movements. As well, I will share my knowledge on how it works. With this knowledge YOU will be able to support your health.
Overall good health needs balance. When your balance is maintained, your life quality is too. Issues related to menopause, PMS, menstruation, can be addressed through proper eating, sleep and release of toxins. Chi energy needs to flow proportionally and consistently for the organs in order to function properly and in a healthy manner. The basis to health is the energy that flows unobstructed and that is distributed evenly through the entire body. Imbalance in a meridian can in turn, bring imbalance to the organ it passes through.
There are many channels in the body documented in both Chinese Medicine and Indian Ayurveda. Both systems profess the idea of energy pathways travelling in the body to connect the limbs with internal organs.
Learn a sequence that stimulates in particular the meridians of the legs, awakening your feminine flow. Your flow will be awakened deep in the fascia layers where the meridians cross and dwell. In turn, opening the passages and allowing more chi (qi) to transport blood, lymphatic fluids and messaging through the connective tissues of your lower body, to & through your pelvis, the home of your primary Dantian (energy center). Ultimately generating more balance and life force.You will learn an effective meridian warm-up that gives your body a "meridian boost". A warm up that can be used to start the day or anytime you feel the need to kickstart the movement of energy through your joints and lymphatic system. Traditionally, precise movements have been prescribed to stimulate these pathways to bring more vitality into the organs. They can be found in traditional martial arts, QiGong and in TAO YIN YOGA.
In this workshop, you will learn some basic principles of Yin/Yang and the 12 major meridians.
*Included in the workshop, are handouts with the warm-up series, the leg sequence and more,...plus a surprise bonus sequence!
Price … 895 kr.
(max. 6 /min. 3 deltagere)
BOOK HER

THIS COURSE IS OPEN TO EVERYONE WHO HAS A REGULAR YIN YOGA PRACTICE.

BRING:
- Bring your notebook and pen. You are encouraged & welcome to take notes.
- Due to Corona, PLEASE bring your own yogamat, blanket & evt. eyepillows
- Bring your own lunch
- Tea, snacks & fruit will be served
- Wear comfortable layered clothing
---