The Multiorgasmic Way - GRATIS SEMINAR
| | |
| --- | --- |
| Arrangør: | Natha Yogacenter |
| Placering: | København |
| Fra: | 15/9/2017 kl. 17:00 |
| Til: | 15/9/2017 kl. 19:00 |
| Antal visninger: | 77 |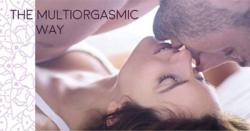 The Multiorgasmic Way - Seminar w. Sabina Serban & Emanuel Langhoff
Would you like to have deeper and longer orgasms? Would you like to have as many orgasms as you desire? But this experience is too short and too rare most of the time. How come some people experience very short orgasms lasting only a few seconds, while OTHER people speak about orgasms that go on for several minutes… or even hours?!
Did they just get lucky in the genetic lottery and too bad for everyone else… or is there a way to learn how to increase our orgasmic capacity? Would you be curious to know how on earth this is possible? Is ecstatic happiness worth an investment of time and inner transformation using a precise methodology, quite simple but perhaps not exactly easy?
Tantra reveals techniques that teach both men and women to ride the intense pleasure waves of orgasm, prolonging the experience and introducing the orgasmic state again and again! Many western couples, who have been exploring tantric love making techniques, have experienced continuous peaks of orgasm and that this ecstatic happiness is available for everyone.
The seminar is open for everybody and clarifies for both men and women the approach to the multiorgasmic experience in an inspiring guided talk by the tantric couple Emanuel and Sabina. We look forward to seeing you.
About the teachers
Sabina is an artist of spiritual paintings. She is educated in Tantric massage which is a main aspect of her tantric work.

Emanuel has a broad gamut of spiritual and tantric experiences. He has been teaching yoga and tantra for more than 20 years around the world and has been the organizer of the Tantrafestival in Copenhagen for many years. Sabina and Emanuel have dedicated their couple relationship to the spiritual path of tantra.
Together they aim to spread the teachings and practices of tantra related to the intimacy in love relationship and eroticism. In their work they emphasize on the use of sexual energy and pleasure as tools to develop the soul and spiritualize the couple relationship.
From September they offer courses and workshops of Tantra and Yoga in Århus.

• Adress: Natha Yogacenter, Nordre Fasanvej 230 2200 København N. Join us in Ananda Hall. Up to 70 people attending!
• FREE FOR ALL
• Sign up: natha@natha.dk OR website
Please make your reservation as soon as possible to secure your place. Access is based on first appearances of sign up.
---